Patients, families and care givers managing pressure injuries, should have the confidence they are using the most effective solutions.
That's where we can help…
Our range of solutions are clinically proven to reduce the risk of pressure damage and can be used in hospital and home care settings. Expert recommended, you can be rest assured that Repose®, Toto® and Dermisplus™ Prevent provide comfort for you and your loved ones. Our friendly team of experts are on hand to support, whatever your question might be.
Why choose Repose®?
Meet Lisa, she talks about what's important and how Repose can help you to reduce the risk of pressure damage.
Watch the video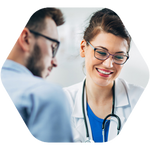 Frequently Asked Questions
Helpful information to answer your questions, so you can be sure you are getting the most out of your purchase.
Read our FAQs
Frontierathome is a shop designed with you in mind. Offering solutions for pressure area care including mattress overlays, cushions, heel off-loading devices, pressure redistribution strips and pads, and automated patient turning.  Clinical confidence in your home for the prevention and treatment of pressure injuries.
Pressure Ulcer Prevention Products – Support Surfaces & Gel Pads
Pressure Relief Cushions and mattresses for Bed Sores/Pressure Ulcers